PAST EVENTS
All though they're just a memory, some memories last forever..
RushCON 15 (Toronto Mini-Con): 2015
RushCON 15 (Los angeles): 2015
RushCON 14: 2014
RushCON 13: 2013
RushCON 12: 2012
RushCON x1: 2011
RushCon 10: 2010
RushCon 9: 2009




RUSHCON: 12 - October 12 - 14th, 2012 Toronto

Posters for the event around town.
Oh Toronto, we meet again.
Unlike previous years, this time we were all arriving very close to the start of RushCon. We didn't have the luxury of having the full team there a week before the event. So we had a lot of work do in much less time.
This was our first convention held so late in the year, and we didn't know what to expect from an October convention. But we knew how amazing the Clockwork Angels tour was, and we were hoping fans wanted to see the band in their hometown.
The first team members to arrive went to work right away, building out the decorations and putting the final touches on everything.
We turned the space at the hotel into a Steampunk Carnival, complete with steampunk accessories and accompanying photo booth. It was great to see the old familiar faces that make us who we are. We met lots of new fans as well!

Judy, her lovely mom Cathy, and Kevin greet people in the Courtyard Lobby for registration.

Kevin sells some RushCon t-shirts.
The mixer was a blast; there was a crazy hard riddle game that everyone competed against each other to win. Our good friend Robert also serenaded us with acoustic renditions of Rush tunes.

The main mixer room.

Some lovely Rush fans get their Steampunk on!


These guys were trying to solve the game riddles to win some prizes.


Some awesome steampunkers show up in full regalia.

Some RushCon Alchemy. The secret to our success. (Science!)

Robert plays us some Rush tunes.

A Clockwork Angel

Rose rocks her Victorian garb.


We had lots of great prizes to give away, including shot and beer glasses from the Orbit Room.

Jocelene was the winner of our anagram contest and took home this cool record purse.
Saturday morning, everyone headed down to the Hard Rock Café at Yonge-Dundas Square. This was a new venue for us, so it was a challenge to move in all the RushCon staff equipment, the entire tribute band set up, the Chromey drum set and our vendors. But everyone rallied and got it done.
The setup at Hard Rock Cafe was awesome. Lots of room for the audience to sit and watch the events, yet also plenty of space to grab a drink and just hang out.
Laura and Mary hang out during the games.

Sheldon the Posterman shows off some incredible Rush stuff for sale.
We started off with one of our favorite RushCon games, "Countdown." The 6 contestants had to listen intently to very short clips of Rush songs and then name the tune accurately to gain points. It was a fierce competition. But we narrowed it down to two contestants and finally crowned a winner.
Countdown contestants: L to R: Thomas, Mike, Jen, Carrie, Eric and Leanne

Carrie ponders over the short song clip she just heard.
We then turned our hearts and minds to a beautiful video tribute to the late Andrew MacNaughtan. Andrew was the incredibly talented official Rush photographer and great friend to the band for many years who died suddenly last January. His loss was felt greatly by the band, the art community and all the lives he touched. Eddy Maxwell put together a very touching tribute that brought tears to many of our eyes.
We then switched "gears" into Charity Auction mode. Many lovely and rare items were on the bidding block and there were a lot of happy winners. Thanks to Holly, Kristy & company for running the auction!

Awesome drum head singed by all 3 band members.

RushCon proceeded to welcome Rush's official photographer and pyro technician John Arrowsmith to the stage. John showed us an incredible slide show of stunning photographs of the band on stage, doing what they all do best. He also had a hilarious behind-the-scenes portion, showing us a rare glimpse of the band in their lighter moments.

He told great stories of how he got the job and what it's like working for a world-renowned touring band. Afterwards, he stuck around to take some photos with RushCon attendees.
We had a spontaneous mini–auction after John's presentation because he brought us some additional gems to sell for charity (Signed and personalized photos of the band).
We raised $8,000.00 for our charity this year, Care Canada. As always, we are blown away by the generosity of Rush fans to help make the world a better place.
In between events, attendees got to sit behind the 1974 Chrome Slingerland drum kit once owned and used by Neil Peart. The Chromey team brought lots of amazing memorabilia and helped us raise more money for our charity.
Once the daytime events were concluded, we cleared out the space and set up for the tribute concert.

We hadn't been able to include a tribute concert for a couple of years, so we were excited to bring back this popular event. Kristy helmed gathering demos from eleven great Rush tribute bands from across North America.
After narrowing the eleven entries to the top three, we let the fans vote for the finalist.
When Jillian went to open the tribute concert audience doors, the line was AROUND THE BLOCK to get in! The room quickly filled up with Rush fans looking for a taste of greatness. The lights went down, Jillian introduced the band, and LOTUS LAND took the stage.
The band was on fire! They played almost three hours of Rush rarities, with precision and energy rarely seen elsewhere. The crowd was dazzled and got right into the spirit. Dancing, singing, air drumming, it was an unbelievable show!We are so happy with the success of the tribute concert. Guaranteed, Lotus Land gained a lot of fans at this show.
The lineup outside the Hard Rock to see Lotus Land.
The Rush fans are impressed!
Finally after three hours of dancing and singing along, Saturday came to a close.
Sunday Morning, about 80 people trekked to Anthem Records for a private tour. The walls of Rush's record label's office are filled with gold albums, awards, and all sorts of amazing historical items chronicling the band's career. It's a wonderful rare glimpse into the archives of this band. We are so thankful to Anthem for allowing us this privilege.
Stacey takes in the sites of Anthem Records.
Back at the Hard Rock Café, we fired up the projection unit for Chris Schneberger's awesome 3D concert photo slide show, "Freeze This Moment: The 3D Rush Fan Experience". The fans were impressed and had a great time seeing familiar faces in the concert crowd & at the Hall of Fame fan gathering during the Time Machine Tour.
We kicked back into game show mode with our Rush trivia contest, "Jeopardy". Our RushCon take on the game pits contestants against each other in a battle of Rush knowledge.

Our brave Jeopardy contestants

We then finished our game show segment with "Words of the Profits". The goal of this Password or Taboo-style game was to get your partner to guess the clue word without saying any of the words on the list. Always a hysterical nail biter. We were able to award the winning pair with Meet and Greet passes to a future Rush show, thanks to the generosity of Anthem Records!

Winning team Mike and Namish find out the prize was meet and greets!

As the day came to a close, we welcomed special guest, author Kevin J. Anderson to the stage. Kevin is a long time collaborator of Neil's and penned the book that augmented the Clockwork Angels album. Kevin had a lot of insight on how the story was crafted and how the characters were born. He spoke of what it was like to work with Neil and what an amazing experience it was to hear his work brought to life by such talented musicians. He was looking forward to seeing the show that evening, to see the visuals of his story-telling all strung together to bring us this epic tale that now holds a place in our hearts. At the end of the formal Q&A and a short reading from Clockwork Angels, Kevin took questions from the audience, which prompted a lot of good literary discussions. He stuck around to signed books and took photos with the fans, which took a while as the and the line ran the length of the hall. RushCon was honored to have him as our guest.

Kevin reads some experts from Clockwork Angels the Novel and takes questions from the audience.

Kevin signs books and poses for photos with fans.

We ended the day by jumping on our trusty RushCon "School of Rock" buses to the Air Canada Centre, and, as always, the band didn't disappoint. Our love for this band is boundless and the energy was palpable.

As always, it is a privilege to share this positive energy with you all. We plan to do it again with you this summer. We are incredibly grateful that you entrust us with your fandom and that new people venture out to find out what all us crazy Rush fans are up to year after year.

This kilted gentleman, Geroge, came all the way from across the pond!

Seiji comes from Saitama, Japan and has been to every RushCon!

The British (and German) invasion!

Special thanks to:
•Anthem Records, Pegi, Emma, Cynthia, Meghan and Randy
•John Arrowsmith
•Kevin J. Anderson
•Lotus Land: Chris Nelson, Bob Chartrand, Mark Dalton, and their crew: Mike Lennox, Bob Woyton, Cindy Woyton
•RushCon Helpers: Kevin Johnson, Lisa Fields, Gilbert Aguillon, Cathy Staley, Judy Staley
• The entire staff at Hard Rock Café: Crystal, Nancy, Chris and Dustin
•Sheldon the Posterman
•Patrick and Rush Backstage Club
•Robert Prince
•Paul Beaulieu
•Danny Rosenberg, Bruce Lee and all the other photographers
•Chris Schneberger
•Dean Bobisud and the Chromey team
•Doug Elliot and 94.5 the Rock on air team
So June was rapidly approaching and Team RushCon was in the final preparation stages. We were very excited to bring our annual convention back to Las Vegas. We had such a great time there last year; we hoped this year would be just as good.
After weeks of online meetings and frantic texts back and forth, we were all ready to bring our show to Vegas. We were so excited to see each other again after another year between conventions. We always marvel at how quickly time flies.

After we recovered from the initial shock of the desert heat (95 at night? What??), we regrouped in our HQ room and got to work. This year we gained some much needed help from Kevin and Lisa who jumped in and helped sort everything out. We prepared our merch for sale, practiced our games, and sorted through all the amazing auction stuff.

Pre-Con, Eddy prepares the games. Lisa and Kevin package all the name badges.

The next day was our first event, but more importantly, the Rush show! We opened our registration table early, and before you knew it, there were Rush fans everywhere! It was great reconnecting with all our old friends, and meeting new fans.
We finally got to break and head over to MGM for the concert. The band blew us away, of course, and it was great to celebrate the last leg of the tour with so many Rush fan friends. The RushCon crew had to leave the show early (gasp!) to prepare our after-party venue for the fans arrival.


Jillian checks people in and hands out badges at the Hard Rock Cafe.

Our venue choice did NOT disappoint. We had the entire 3rd floor of the awesome Hard Rock Cafe. It was beautiful with a great patio space overlooking the Strip. We had the music and videos blasting, cold drinks ready, and food all prepared. The fans came in droves! We had well over 200 Rush fans join us, and a great time was had by all!
We had a killer lyric-guessing contest, and lots of close scores. But two lovely ladies were the winners, and took home some awesome prizes. We partied until 2 am, and then had to drag our old bones back to the hotel so we would be ready for our 8am team meeting.


Holly judges the lyric contest. Trying to choose the most accurate results.


Jillian announcing the winner and showing off the prizes.


Michelle and Kelly were the proud winners.
The next day, we woke at the crack of dawn to get everything for the convention ready. Holly and Kristy organized the auction spread, Kevin and Lisa set up our t-shirt booth, Judy and Cathy worked the door, Eddy and Jillian set up all the computers and A/V, and Chris set up his special silver screen. We were ready.

Kristy setting up for the auction.




Judy and Cathy greet and register all the guests.

As the clock struck 10:30, the doors opened. The room filled up pretty quickly as we prepared for our first event. Our first game was the Pictionary-style "We Draw our Own Designs."The clues were hard, but the contestants determinedly drew and guessed. Team 2, Jonathan, Mike and Melanie did a admirable job but the team of Jeremy, Eddy and Kelly were the clear victors.

Eddy H. takes his turn drawing clues for his team to guess.


The winning team, Jeremy, Kelly and Eddy H. were all smiles and prizes.
Up next was RushCon's favorite game, The Words of the Profits. We were honored to have Ken FIsher as one of our contestants. Ken works at NASA and was the one responsible for getting Countdown played for the astronauts in space. Pretty friggen cool! He and his team mate Rob L. played against the girls team of Torri K. and Lara K. Unfortunately for the girls, the boys had pretty good game show chemistry, and pulled ahead early for the win. The girls did walk away with lovely consolation prizes, and the boys team won the grand prizes (some awesome Rush collectible swag.) Huge props to all our game players. It seems easy when you're sitting in the audience playing along, but its a whole different ball game when you're up on stage in front of hundreds of people.


Jillian groans as the clue giving goes X-rated.



Ken tries to get Rob to guess his clue word.

Lara and Torri watch on, and try to plan their strategy.

Torri winces after an accidental point loss.

The audiences watches, laughing at all the game show hi jinx.
The bravest faces of the Words of The Profits Team!
We took a break, showed some video montages of rare and hilarious Rush clips from all over TV land.
We then gathered everyone to the middle of the room, handed out our custom RushCon 3D glasses, and hit the lights. The audience was blown away by our exclusive 3D concert show, "Freeze This Moment." Created by Christopher Schneberger, the show brought tears to the eyes of our attendees. They all cheered and applauded as the live music played, in sync with outstanding 3D visuals of not only our favorite band, but also the adventures of life as a Rush Fan. A true highlight of the convention!

Chris educates the audience on the technical aspects of 3D photography.

The audience sits in anticipation, proudly rocking their awesome RushCon 3D Glasses.
Next up was our annual RushCon Charity Auction. We had a lot of new attendees this year, and they really didn't know what they were in for. Jillian explained how everyone needed to be sitting in the middle, so she could see their bidding stars, and also explained the fine art of sniping. Holly, Eddy H and Steve L displayed each item, and the bidding grew more and more intense. We had a vast array of items, including custom-made Rush jewelry from fan artisans, troves of tour memorabilia from former road crew, and of course several signed items donated to RushCon from the band themselves.

Bruce and Brent check out some tasty items up for auction. (then check their bank account balances!)

These two were ready to do some serious bidding! (..and fighting against the Solar Federation.)


Just some of the amazing items up for bid.

Some more items up for auction. (Yes, there were Rush Penguins. Happy feet indeed!)
The final, and most bid upon items, were a drumhead signed by the band, a personalized live concert photo (shot and donated by John Arrowsmith) and a personalized copy of Far And Away, donated by Neil Peart.

The audience jumps in to bid on autographed items from the band.


Holly shows off a signed poster during the auction.

Beverely pulls off a perfectly executed snipe.
The bidding was heated towards the end. Jillian opened the bid on the signed Neil book at $300 dollars, and one confident bidder (RushGirl!) jumped in with $500.00, stunning the entire room. Some people joined in the bidding fray and it finally went for $800.00. The drumhead had some tense bidding wars back and forth, and finally went for $720.00. The room would break into applause at the end of every momentous bid. It's always a fun event to witness, even if you aren't bidding.



The drum head donated to RushCon, signed by all 3 at the concert the night before.
Our final total was $6550.00 raised for the Japanese Red Cross. We are proud of the generosity of our attendees, and thankful we can donate to such a good cause
We sadly had to wrap up the Con for the day, and thanked everyone for coming. It was another great convention, and we are so thankful for the continued help and support of Judy and Cathy Staley, Kevin Johnson, Paul Beaulieu, Mary Jo Plews, Lisa Adametz, Eddy Hernandez, Christopher Schneberger, and Steve Lefebvre and of course the continued patience and generous support of Anthem/SRO. We couldn't have done it with out everyone's talents and generosity.

These guys came out all the way from Australia! Impressive!

Old friends reunited.
Get a load of this Bag of Dicks™.
We were so happy to see you all, and are so grateful to those who come to RushCon every year. We are so honored to celebrate Rush's music all with you, our attendees, the best band, and the best fan convention. Hope to see you next summer!

Love your RushCon Team,
Eddy, Kristy, Holly and Jillian
Photo Credits: Holly Smith, Paul Beaulieu, Melanie Haylock Bichener, Kristy Williams

RushCon/Force/Ten
(through the eyes of Jillian.)
10 years of this really? Have I really made this trip to Toronto 10 times? Did this all really start before Vapor Trails was released? Was I really only 23 back then? Was I really THAT blond? Have I really had to explain to my boss and co-workers AGAIN not only WHAT RushCon is, but WHO Rush is?

Did my teammates and I really have it in us to put on the show again?
Long answer…I guess we would find out.

(Short answer, yeah, I guess we did.)

This year was both special and different for us. Yes, it was our 10th year. Since we had heard from our attendees that it was perhaps time for something new, we decided to test the waters by throwing a "mini-con" out in Vegas in August, in addition to the Toronto con. So not only did we have the big 4 day con in Toronto, but we also had to take this traveling circus to a new city, with new people. It was going to take a lot of work to have everything be as awesome as we knew it needed to be.

But first things first,

Toronto: July 2010
Traveling to Toronto is always a little difficult getting all my stuff through customs, explaining to the border patrol guard who Rush was. (Why is that always the question?) I knew I would have to get to the hotel right away, because it was the first unofficial day of the con, and heck, I had a Rush concert to go to! Arrived, napped, ran downstairs to meet up with the "crew."

RushCon organizers Judy and Eddy ponder something important.
The new hotel was nice. Much bigger and fancier. You know RushCon has started when you hear people wearing Rush shirts, referring to others by their "online names." There was already a group assembled in the Hotel Bar and I could see how happy everyone was to see each other again.

Rob, Brent and Bruce knock a couple back before the Rush concert Tuesday.

After many months of online meetings, I finally saw my fellow RushCon Sisters, Judy, Eddy, Holly and Kristy in person. Even thought we had talked virtually every week for the past 2 months (virtually!) it's always great to see them in person. We gathered the group of 30 or so, and piled on to the "caravan" bus over to Molson Amphitheatre. We were all so excited to be together and seeing a show. For a lot of people this was their first show of the tour, so those of us who had seen it already had tried our best to keep our mouths shut.

We rolled up in RushCon style to the gate of Molson, most of us rockin' our RushCon shirts.

We all went our separate ways (hey wait, this isn't about Journey!) once we got inside, but we would see each other from across the audience, heads bopping, fists pumping, and wave. You are never just a lone fan amongst the crowd when you're with your RushCon brethren. The show rocked, no doubt. Sprinkled throughout the audience were band family members, and various other local celebrities. Afterward we got back on the bus and headed back to RushCon Central. The team had 2 days to get everything in order for the official first night of the con. We had rooms to prepare, auction stuff to organize, difficult footwear decisions to make, etc.

Friday night rolled around. The hotel lobby was lousy with Rush fans. They (we) were everywhere! So many new attendees this year! The buses took the 100+ conventioneers down to the Toronto docks to board our vessel. It was a stunning evening on the Toronto harbour. Clear skies, warm temperatures.
Before we were about to pull away from the shore, we got some last minute good news that Terry Brown and Donna Halper would be joining our festivities.

Old Friends and Rush staples, Jack Secret and Terry Brown are reunited after many years.
Our guest speaker Tony (Jack Secret) had been a good friend of Terry's back in the day, and they hadn't spoken in over10 years. So this was a very special reunion we were glad to be a part of. After much chillaxin' on the upper deck of the boat, I got to introduce Jacob Moon to our group. To be honest, I hadn't listened to his Subdivisions cover that had made him famous, and the waves were a little rocky at this point, so I was not sure what we were about to witness. Needless to say, he Blew. Me. Away. He was SOOO good. His voice, his guitar, everything. The sun was setting, as he treated us to a couple covers, then finished his set with Subdivisions. It was super cute. He told the story of how when he finally got to meet Neil at the Canadian Song Writers Award ceremony, he was nervous but remembered he had his pocket recorder with him, so he asked Neil to say "Subdivisions" into it, and worked it into his live performance. It was truly truly amazing and we were so lucky to have him perform for us. The crowd was spellbound. He gained many new fans I am sure.
We then moved down to the lower bowels of the boat to hear legendary road crew member, Jack Secret tell his tales. He had a slide show of many rare and unseen photos he had personally collected during his early years with the band. Many candid shots of the boys recording Hemispheres in England, impromptu baseball games, and behind the scenes stuff no one has ever laid eyes on. He told many stories of the early days of traveling on a rock tour, and took some questions from the audience. He was super funny and charming, and such an integral piece of Rush's history. It was amazing having him in our presence. He even came to party with a bunch of us after the boat ride. I guess Rush fans aren't that scary, right?

Jack discusses Days Of Yore.
The next morning started the day of our big events. At this point, Dean and Christopher had rolled in and set up the Chromey Room. But I really had no idea how much stuff he had. He rented out a whole other conference room adjacent to ours and it was like a museum! Used sticks, signed drumheads, Neil's original bass drum heads, signed guitars, signed photos. So much awesome stuff! And of course the star of the show, Neil's kit! Tons of people got their pic behind this super sweet relic. Dean and Chris raised a bunch of money from these photos for our charity- what amazing guys! This added bonus of having all this great stuff on display made this years Con so much better! Hope we can have it every year. :)

The Chromey Museum!

It's not every day you can tinker with Neil Peart's once owned actual kit.

Baskin and Dean Bobisud- Chromey's Owner.


RushCon organizer Kristy gets her Chrome On.
Rush Backstage Club also made us drool with "want!" over their merchandise set up. In addition to all the cool stuff normally sold at the show, they brought this ginormous poster they had for sale of the boys from the late 70's. It was epic. I'm impressed no one tried to run off with it.


Rush Backstage Club's little corner of awesome.

The RushCon lobby bustles with activity and awesome stuff on display.

Our convention room was decorated in the theme of Clockwork Angels. We had torches and various alchemy symbols adorning the walls. We started our first game "Countdown" which is a RushCon classic. Dave R. from Canada was the winner, naming more Rush songs by only hearing a short clip, than any of the other contestants.

6 players compete for the Countdown title.
Our next game was Jeopardy. We had a panel of "semi" experts competing for the grand prize. The trivia was hard this year. But one contestant Tony was victorious.

Next, in order to gear us up for our next marquee event, we played the footage of Rush's acceptance speech at the Hollywood Walk of Fame. Donna Halper had arrived. The room went pretty silent, as everyone wanted to soak in everything she had to say. She talked a bit about how she helped the boys receive their Walk of Fame Star, the ceremony, and her long history with the band. She emphasizing how kind and genuinely "good guys" the boys in band are, and how despite the distance apart, they all still remain close friends. She had a collection of quotes (some hilariously brutal) from various rock "critics" and their opinions of Rush. Some reviews claiming how Rush would never "make it" in rock and roll and that they were "nobodies." 33 years later, we all beg to differ. Donna had a good chuckle at this fact. She took a lot of questions from the audience, and we were honored to have her around. Donna is a true gem.
It was time for us to jump on a bus and head over to a concert - again! I will never get tired of that feeling. A group of us, super excited, on our way to a Rush show. THE BEST. This show was indoors, and it was cool seeing the light show in total darkness. Our boys put on a brilliant show as always. After hearing Jack Secret's speech about his vast responsibilities during the show, I had a new found respect for him as I watched him running across the stage, doing all his set up work. For some reason I felt proud.

Following the concert, the late night sing a long tradition was revived as always, featuring Robert on guitar.

The night continued in various hotel rooms across the building. I'm sure everyone was up until dawn, but I was sound asleep, knowing there was more to do the next day.
Sunday morning was met with Rush fans wanting to peek inside the golden halls of Anthem Records. Judy took an eager crew on the 5-block walk down to Rush's record label's office. The walls and rooms are THICK with gold records, memorabilia, props from videos and the like. It's a Rush fans golden wet dream. It's very cool and trusting of Anthem to let us give this tour every year.

Zane poses with some of the many gold records and awards Rush has received over the years.


RushCon faithful Seiji (who flies in every year from Japan) displays the Hollywood Walk Of Fame Star plaque the band got to take home.

I was super nervous about the next event, The Words Of The Profits because it was a new game I made and the A/V set up was more complicated than years past. Luckily, Eddy knew exactly what to do and we got everything working. We pretty much had to beg for contestants, because this was a super stressful, "Everyone-will-make-fun-of-you-if-you-screw-up" type of game. Happily, Tony, Chris, Jill and Beverley were up for it.

Bev and Jill trade clue giving (and cursing!)

Tony and Chris show their skills at Words of the Profits.
The goal was to get your partner to guess a specific keyword by NOT using any of the banned clue words. It turned out to be super hard, but SUPER funny for those of us watching. And good lord did everyone swear like sailors. Bev and Jill won, but Chris and Tony put up a good fight. (And I was happy my game system worked!)
Another Sunday surprise was that Neil Peart's very first drum teacher, Don George stopped by our convention. He took in all the sights and sounds, got his picture with Chromey, watched some of our events, and even gave an impromptu drum lesson. How cool is that?

Don George (Neil's first drum teacher!) shows us exactly how he taught Neil to 'hit things with sticks.'

After another multi-media video presentation we started our Charity Auction. We had oodles of stuff that Holly had prepared and organized from donors from all over. Bidding was frantic, and of course lots of sniping.

RushCon organizers (and expert bid snipers) Eddy and Mary Jo.

Heated bidding war over a signed Snakes and Arrows lithograph, our pal Baskin was the proud winner, with a bid of $800.00!!!

Some of the most sought after items were hand-made Rush themed jewelry, from Lisa. These pieces were stunning, and everyone wanted them! The auction ended after 2 hours, and we headed over to the movie theatre around the corner. Lots of people hadn't seen the Rush Doc, Rush: Beyond the Lighted Stage, and we were pleased to present it in a real theatre for those virgins. It was especially exciting for us, because RushCon 7 and 9 were featured in the DVD extras. So it was incredible for us to show the RushCon footage, to the RushCon attendees, at RushCon. Lots of these now famous documentary movie stars were sitting amongst us in the audience. Loved it!

Finally, we headed over to the Parliament building, which is famous for being on the cover of Moving Pictures. Took a couple group photos, and since this was our last event, sadly the con came to a close.
Festivities did, of course, continue over at the Orbit Room (another of RushCon's many traditions.)

It was great having our 10th convention in Rush's hometown of Toronto. Or should I say, RushCon's hometown of Toronto? As much as we wanted to rest and relax and bask in the aftermath of a successful convention, we had only 24 days until our NEXT convention… this time across the country in Las Vegas. We took notes from Toronto and decided what events we wanted to do in Vegas. We knew we only had one short day to win over the hearts and minds of a whole slew of newbies. I personally had not been to Vegas in over a decade, so I just had to trust that everything would be OK.

Las Vegas: August 2010

I rolled into Hooters, the official hotel and was a little intimidated. Usually we just have to compete with a couple vending machines, and maybe an ATM for the attention of our attendees, but this time, we were smack dab in the middle of a ruckus casino. We only had one day to get everything ready. On Friday afternoon we finally got a sneak peak of what would be our convention room, the Night Owl Lounge. I LOVED IT. It was so awesome. It housed the hotels nightly Prince tribute show, and the stage was draped in a big purple velvet backdrop. And it had a real honest to goodness stage! Tons of seating and tables, and it was awesome. Super swanky! Much better than a standard hotel convention room set up. I was officially excited. We then headed off to the Rush Lounge in Old Vegas. It was super old school. Very fun.
Man, Vegas was packed! The amount of silicone and spray tan was a little frightening. We got to the Rush lounge and quickly began to look for the infamous indicator of the RushCon attendee, the Rush t-shirt. They started popping up out of nowhere. LOTS of new faces. We handed out badges, introduced ourselves and kicked off the convention proper.

I sped off with a couple others to the Porcupine Tree show at the Hard Rock Hotel. Rocked out hard. I told myself I could NOT scream or get rowdy, because I needed to save my voice for the convention. But I broke both my rules. (HAD to.. it was Porcupine Tree!) We had a blast, and then headed back to RushCon HQ (my hotel room!) for a team meeting to try to get everything ready for Saturday, RushCon day. There is always lots of last minute work to do.


Much to my delight.. (sigh) - it turns out the room adjacent to mine was the official RushCon nighttime party room. I think at a point there were 25 people over there? I got to sleep by 2am anyway.
The next day was show day. We had 2 hours to turn this Paisley Park, into a Prog Rock Playhouse. Everyone ferociously took off to do their tasks. Mary Jo set up the RushCon merchandise. Kristy had to pinch hit for Holly (airplane delay) and set up all the auction stuff. Judy and RushMom (Cathy) set up registration, Eddy and I set up A/V. In addition to our t-shirt booth, and Rush Backstage Club was back again with a giant spread.

Mary Jo tends to the RushCon shirt booth.

Cathy (wo)Mans the door.
The room looked awesome, we were cranking some Rush videos on the giant stage screen, the clock struck 11, and there was a line around the lobby to get in. Holy crap! Everyone streamed in. So many new people! The room was PACKED. I was actually nervous!

We handed out a killer game that Holly had created where you had to guess song names that written in all synonyms. It was hard!!! Not surprisingly there was only one winner, Team Robert and Jeremy won the prize!
We welcomed the new crowd, and fired up the first game, Countdown. These were some serious contenders! It got whittled down to long time RushCon attendee Ryan, and Jaime Hall. Jamie pulled ahead in the last round and won.
We didn't give her grand prize then. That was yet to come. We showed the RushCon clip and some additional DVD footage while we set up for Words Of The Profits. We had so many people sign up; we had to choose randomly for contestants. I kept it boys vs. girls. It was Carla and Mel, vs. Ryan and Jason S.

Carla and Mel try to stick it to the boys team in Words of the Profits.

The two teams duke it out for to win the respect of fellow Rush fans. (And much more!)

Ryan takes his turn guessing the magic word.

Jason was an amazing clue giver!

The game went really well and again was super funny. Less swearing this time. (In Vegas, who knew?) However the boys trounced the girls with their quick answers and expert clue giving. (Piano Tears? Come on!) So we gave some awesome "runner-up" prizes to the girls, but we had grand prizes to give away to the boys. We called Countdown winner Jaime back up on stage, and had the 3 of them huddle around the monitor, for what I told them was a "bonus" question. All it said on the screen was: (main word) MEET AND GREET PASSES, (clue words) what you 3 have won for tonight. The crowd burst into applause as the 3 winners tried to make sense of what they were reading. When they finally "Got it" Jaime burst into tears and they were all overwhelmed with excitement and shock. It was really touching.
But it turned out that Jason already had a pass through his job, so we got to use the 3rd pass as a give away door prize. We pulled a number and Ron from Los Angeles got to meet Geddy and Alex along with the other two. Super thanks to Anthem for giving us these passes to give away at RushCon. Awarding a chance to meet the band to a RushCon attendee is always my favorite and most rewarding part of being involved in this convention. It really warms my heart.

Ron, Ryan and Jaime pre-meet and greet. Pre-pants wetting.
We then launched into the Charity Auction. We had no idea how many people were going to participate and we caught a little short on bidding "Stars." We also got a lot more items then expected. What was going to be a "scaled back auction" now became "a mega-super-huge auction." I had to move everyone into the seats right in front of me so I could see all the bidding numbers.
We had a lot of awesome items. More handmade jewelry from Lisa, a lot of cool Rush clocks from Pat Tinney, a couple of Rush: Beyond the Lighted Stage posters signed by filmmakers Sam Dunn and Scott McFayden, a drumhead signed by all the RushCon Toronto guest speakers (Terry Brown, Donna Halper, Jack Secret, Jacob Moon, and Don George), but the coolest items were donated by official band photographer, John Arrowsmith himself: three amazing individual shots of the boys from this tour. (I know I say "Amazing" a lot, but these were truly spectacular. Not your standard "Neil behind the drums mid hit" shot.. They were unique captures of the boys with unique lighting and shadows and.. ahh.. you just need to see them!) And each guy signed his photo that morning. Those really brought out the intense bidding. The Neil one went for the most (it always does!) with a final bid of $430.00.


Holly presents the John Arrowsmith donated photos, signed by the band.

Artist Richard Carter presents his donation of 3 beautiful paintings of the band members. This set sold for $350.00.
The auction was a great success and everyone had a good time. We brought in over $3000.00 for our new charity, food bank Three Square in Las Vegas. Always proud to be a part of that.

Judy hands out some cool door prizes to a lucky winner.

Sadly, we had to wrap up this convention and move everyone over to the MGM across the street for the main attraction. The show was really good! The audience was, dare I say, bananas? Top notch as always. Does Rush ever disappoint? After the show I was running on empty at this point, but there was an awesome after party to attend! Julie & Casey were our gracious hosts.

Kristy and party host Casey take in the sights.

Steve, Judy and Paul discuss Rush? Beer? Rush flavored beer?
Tons of us went up stairs to the party room, which was on this beautiful deck over looking the strip. Super nice. Got to catch up with old friends. The perfect end to a perfect weekend.


RushCon organizers Holly, Eddy and Mary Jo make it all look effortless.

I felt that Las Vegas went really well. The venue, the people, the team, everything worked out. I had a great time hosting this one. Something felt more special than usual. I am very glad we took the risk of bringing RushCon to a new crew.
Huge thanks to all our regulars who made it out to BOTH cons this year, and special thanks to all the newcomers. We hope you had fun, and we hope to see you again real soon!
Special thanks to the wonderful Cathy Staley who always comes out to support and help. We love you!
Much love to our slew of helpers who always are able to jump in and lend a hand, foot or brain- Booter, Zane, Baskin, Phred and Kam, Rodney, Max, Todd, Steve, Jeremy, Robert, Eddy Hernandez

Huge thanks to Hooters Hotel venue staff, Rick, Matty, Connie and Mark who were more than helpful, and totally awesome.
Always in my heart will be Donna Halper, Jack Secret, and Jacob Moon.
And always on my mind will be how to make next year better and more fun for you wonderful people I am lucky enough to now call friends. See you next year!

If you have any feedback on this year's convention, or you can't sleep and you want to talk about Rush, drop us a line, info@rushcon.org. We hope to hear from you.
(and Thanks to Barney Rebel, Christopher Schneberger, Kristy Williams, Richard Carter, Melanie Haylock Bichener, and Seiji Harada for the great photos!)
Thank You Thank You Thank You!
RushCon 9 is in the books
It's been a over 3 weeks and we are still recovering. Going through all the photos, tallying up all the totals, unpacking, and sadly getting back to real life.

The weather was not on our side, but while the rain tried to dampen our spirits, nothing could keep us down.

Thursday July 23, 2009
We all gathered for a team meeting at McVeighs pub, in downtown Toronto. (One of MANY pubs we would be frequenting this weekend.)

And then, as the clock struck 9pm, the place burst at the seams with many of the other con-goers all at once. It was a giant family reunion. It was so awesome to see everyone again, and it always seems like it was just a few months ago that we descended on Toronto. Who could believe it had been a year?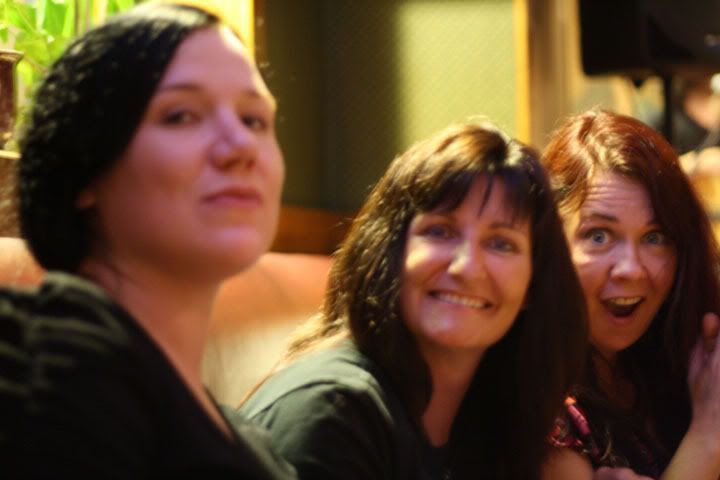 Friday July 24th, 2009
The BBQ on the island was an adventure. It stormed and stormed, but then the Rush gods smiled upon us and brought clear skies (complete with a rainbow!).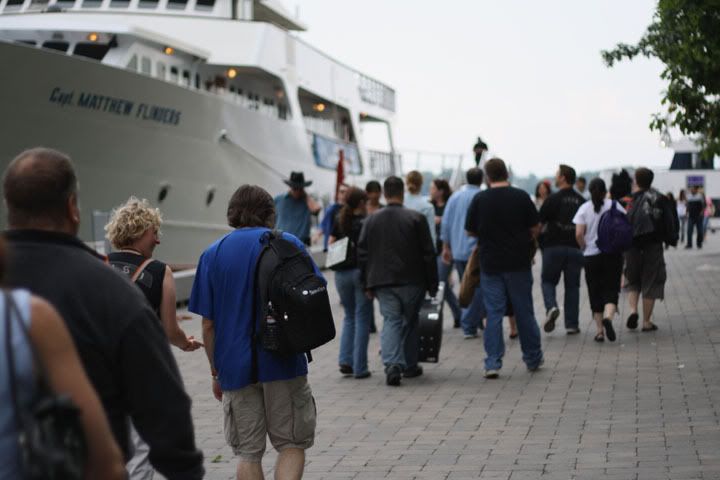 We had some epic noms, played some games, and capped of the night with the musical stylings of Robert, leading the outdoor sing along.

Saturday July 25th, 2009
Saturday started off with a bang with a challenging round of Countdown. Congrats to Dave M. our winner who held on till the very end.

We then played a nerve-wracking game of Jeopardy with scores racing in every direction.

But Girl power prevailed, and Amanda beat out all the boys.

Some virtual bands got to rock out to Rock Band and played some tunes from Moving Pictures on the big screen. (Thanks to Harmonix for the game donation.)

We were then treated to a spellbinding presentation by the now infamous Michael Mosbach. He illuminated us with many tales, photos and behind the scenes hijinx.

A really excellent presentation that left everyone on the edges of their seats and mesmerized.

The evening continued over at C'est What where we had our annual karaoke contest. Many unique performances, to say the least. Our winner was Lisa, who did a stellar job. Limelight proceeded to rock our socks off. The club was intimate, but it made it all the better. We were all singing in each other's faces, which was a really special experience for both the band and the fans. Thanks so much to Limelight for blowing us away as always.

The night remained young and the partying did not stop.

Sunday, July 6th 2009
Sunday morning we were greeted with more rain, but heck, some of us stunk by that point anyway... so it was all for the best. We headed down to Anthem for a glimpse at all the fabulousness that adorns the walls and shelves in their office.

Back at RushCon headquarters, Martin Popoff illuminated us as to the progress of the Sam Dunn directed Rush Documentary. Making us drool with hints of all the found footage and unearthed Rush gems that we will get to see on the big screen in the spring. Martin also fielded a lot of questions as to Rush's standing in rock history and what other musicians had been interviewed for this film.

We finished the day with our Memorabilia auction. We made over $4500 that day, and cleared the $50,000.00 mark for overall RushCon donations to the Daily Bread Food Bank in Toronto. This is an epic achievement for Rush fans, and we should all be proud. We sold a lot of artwork this year, but the marquee item was an autographed hard cover copy of Road Show, personalized to the winner, from one Mr. Neil Peart.. Our little RushGirl Bev of COURSE took that gem home. Congrats on the killer win. :)

The weekend capped off with the pub crawl and many adventures through out the streets of Toronto.

The experience of Rushcon is hard to put into words. It started as a small little dream, and continued to be our little project, but it has grown into such a wonderful, FUN event. It is so touching to see all the faces over the years, meeting new friends, reconnecting with old ones. It's wonderful to know that we have a network of close friendships spanning the globe, just because of our chance discovery of some little Canadian band at some point in our lives. Yes, RushCon is the celebration of that thread we share, but it's grown to be so much more than that. It's family. And I am counting the seconds until next year.

See you soon!
Extra thanks to Jeremy, Booter, Robert, Steve, Todd and Max for all your help on scene. And Kam and Phred in there for all their hard work and help during the auction!

We couldn't do it without all of you! Much appreciation to Anthem Records for their continued support and generosity. And special thanks to Michael and Martin. YOU were our rock stars this weekend. Thanks for everything. Much Love, Judy, Jillian, Eddy, Holly, Mary-Jo and Kristy. Photo Credits: Barney_rebel, Jessica Winkworth, Seji, and Tom (Bastille Night)